New Zealand, a land of cinematic landscapes and untouched beauty, hides a gem on its Coromandel Peninsula - Cathedral Cove. This iconic destination, with its majestic rock archways and shimmering waters, promises more than just a visual treat.
From thrilling water adventures to serene hikes, Cathedral Cove beckons travelers to immerse themselves in its myriad experiences. Dive into this guide and discover the myriad ways to embrace the magic of Cathedral Cove.
What is Cathedral Cove?
Cathedral Cove is a secluded beach and natural archway located on the Coromandel Peninsula in New Zealand. It is one of the most popular tourist attractions in New Zealand, and is known for its stunning scenery and unique geological features.
Nestled in the southern part of Mercury Bay on the Coromandel Peninsula, Te Whanganui-A-Hei (Cathedral Cove) Marine Reserve spans an impressive 840 hectares. This natural wonder is not just a sight to behold but also a testament to New Zealand's commitment to preserving its marine life.
Cathedral Cove stands out for its natural rock archway and neighboring beaches. These attractions draw in approximately 150,000 visitors annually. Moreover, the cove has graced the silver screen as the tunnel through which the Pevensie children re-enter Narnia in the movie adaptation of The Chronicles of Narnia: Prince Caspian. It even featured in the music video for the song "Can't Hold Us" by Macklemore and Ryan Lewis.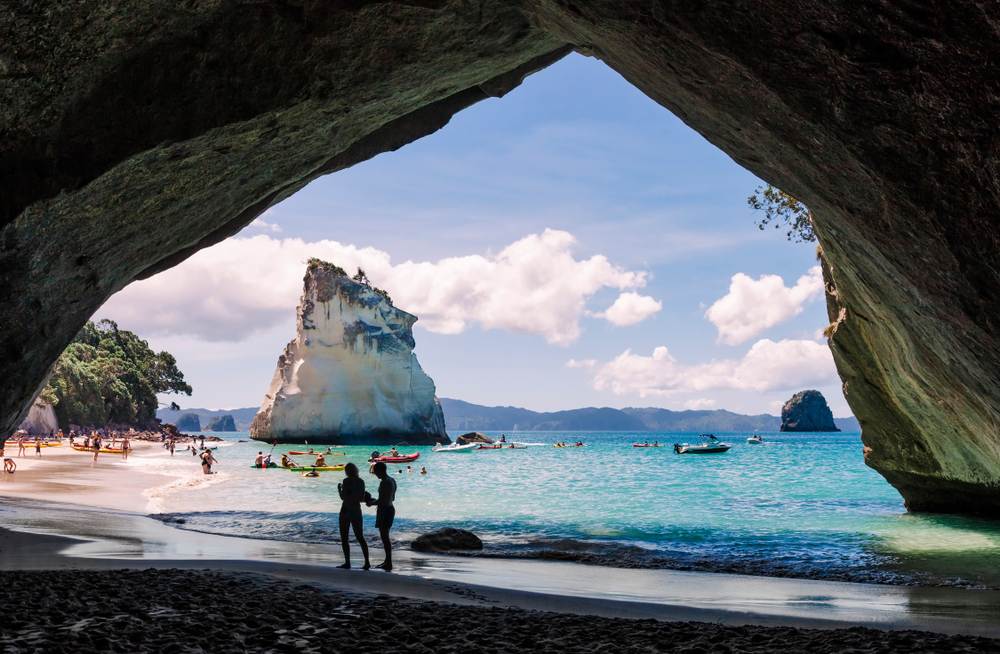 Where is Cathedral Cove located?
For those wondering "where in New Zealand is Cathedral Cove?", it's situated on the coast of the mainland, stretching from Cook Bluff in the north-west to the northern end of Hahei Beach in the south-east. Its offshore boundaries extend from Motukorure Island through Waikaranga Island to Okorotere Island and the northern tip of Mahurangi Island (Goat Island).
When to visit Cathedral Cove?
While Cathedral Cove is a year-round destination, visiting during the off-peak seasons ensures a more serene experience. The mild weather of the Coromandel Peninsula is welcoming, but do check the local forecasts.
How to get to Cathedral Cove?
The journey to Cathedral Cove is as memorable as the destination itself. Whether you're driving, cycling, or taking public transport, the scenic routes of the Coromandel region promise an unforgettable trip. And if you're looking for a unique travel experience, consider renting a campervan. Exploring New Zealand in a campervan offers flexibility and the chance to be one with nature. Check out campervannewzealand.co.nz for some great rental options.
What to pack for Cathedral Cove
Comfortable walking shoes

Sunscreen and hat

Swimwear and towel

Camera and binoculars

Snacks and water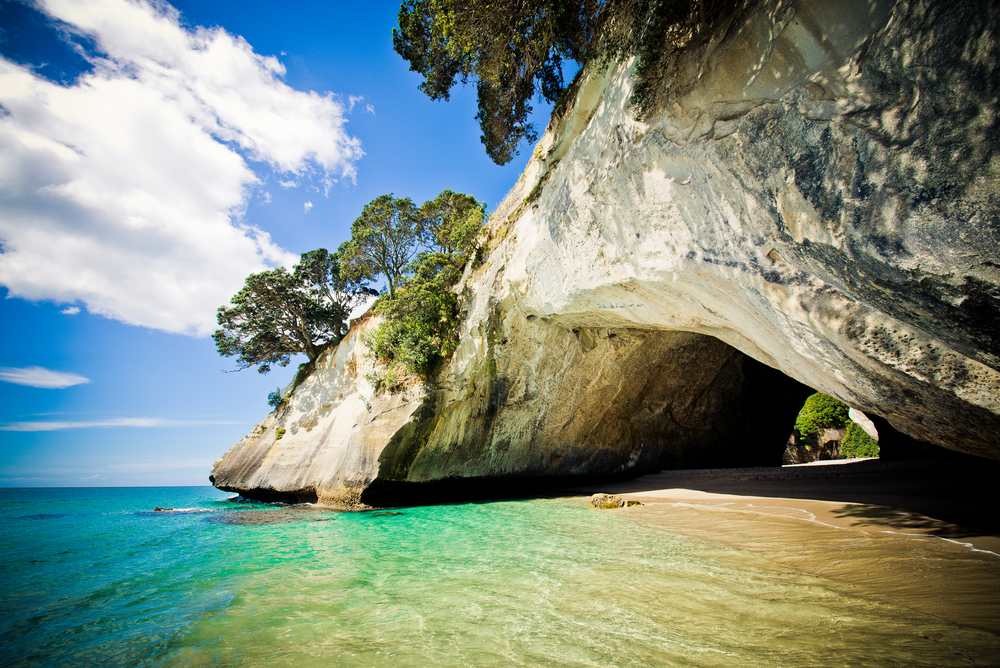 Things to do at Cathedral Cove
Swimming and snorkeling at Cathedral Cove
The pristine waters of Cathedral Cove are not just for admiring from the shore. Dive into the refreshing embrace of the ocean and experience the thrill of swimming alongside the diverse marine life that thrives in this marine reserve.
Snorkeling here offers a unique opportunity to get up close with colorful fish, curious stingrays, and perhaps even a playful dolphin or two. Remember to check the tide times, as the best time to snorkel is between low and high tide.
Kayaking and paddleboarding at Cathedral Cove
For those seeking a more adventurous way to explore Cathedral Cove, kayaking and paddleboarding are excellent choices. Paddle through the clear waters and navigate around the iconic rock formations, getting a unique perspective of the cove.
Guided kayak tours are available, which not only ensure safety but also provide interesting tidbits about the area. For the independent traveler, kayak rentals are an option, but it's essential to have some prior experience.
Hiking at Cathedral Cove
The journey to Cathedral Cove is as mesmerizing as the destination itself. The trail, spanning approximately 2.5 kilometers (1.6 miles) one way, offers panoramic views of the coastline. As you hike, you'll pass other scenic spots like Gemstone Bay and Stingray Bay, perfect for short breaks or a quick dip.
The trail is paved and well-maintained, with a few sets of stairs leading to the bays. While the hike is rated as easy, the climb at the halfway point can be a bit challenging, but the breathtaking views from the lookout point make it all worthwhile.
Photography and videography at Cathedral Cove
Cathedral Cove is a haven for photography enthusiasts. The natural rock archway, turquoise waters, and golden sands create a picturesque setting that's hard to resist. Whether you're capturing the first rays of dawn or the serene ambiance of a setting sun, every moment here is photo-worthy.
Videographers can also capture the dynamic landscape, from the gentle ebb and flow of the waves to the vibrant marine life beneath the water's surface. Remember, Cathedral Cove has been a backdrop for movies and music videos, so you're in a location that's already received a cinematic nod of approval!
Conclusion
Cathedral Cove, a gem in New Zealand's Coromandel Peninsula, promises an experience like no other. From its cinematic fame to its natural allure, it's a must-visit for every traveler. And as you plan your trip, remember to tread lightly, respecting the sanctity of this marine reserve. Happy travels!