New Zealand, a land of unparalleled beauty, is home to some of the world's most stunning natural wonders. Among these, the waterfalls in NZ stand out as breathtaking masterpieces of nature.
Whether you're a seasoned traveler or someone looking for their next adventure, New Zealand's waterfalls promise an experience like no other.
Sutherland Falls
Sutherland Falls is recognized as one of the highest waterfalls globally, boasting a staggering total drop of 1,904 feet (580 meters). This magnificent waterfall cascades in three distinct leaps: 815 feet (248 meters), 751 feet (229 meters), and 338 feet (103 meters).
Located within the pristine Fiordland National Park in New Zealand, Sutherland Falls is fed by the serene Lake Quill. This lake, nestled in a rock basin, was formed due to ice-action during the Ice Age and directly spills over the vertical cliff, resulting in the breathtaking falls.
Marokopa Falls
Located in Waikato, Marokopa Falls is a year-round 30m waterfall that is easily accessible. A short 20-minute return walk through native tawa and nikau forest leads you to a viewing platform, offering a panoramic view of the falls.
Situated a few kilometers from the renowned Waitomo Caves, it's a perfect addition to your caving adventure.
Purakaunui Falls
Set within the Catlins Forest Park, Purakaunui Falls is a picturesque multi-tiered waterfall. A brief 10-minute walk from the parking area, on a well-maintained track, brings you to this gem. Surrounded by mixed podocarp and beech forest, it's an easy stroll to the waterfall's lookout, making it a favorite for families and photographers.
Thunder Creek Falls
Thunder Creek Falls, situated in Mt Aspiring National Park, boasts a 96-metre drop. Conveniently located along the Haast highway, it's a must-visit spot whether you're heading to the West Coast glaciers or Wanaka. The sheer power and beauty of the falls are bound to leave you in awe.
Bridal Veil Falls
A mere 15 minutes' drive from Raglan, Bridal Veil Falls, also known as Waireinga Falls, stands at 55 meters. Platforms near the top offer spectacular views, and the surrounding area is perfect for picnics and relaxation. Its proximity to Raglan makes it a popular choice for both locals and tourists.
Bowen Falls
Bowen Falls, standing at 161m, is the highest and most powerful permanent waterfall in Milford Sound. Best viewed on a cruise or a scenic flight, its grandeur is a testament to nature's might. The surrounding cliffs and greenery add to its charm, making it a must-visit.
Huka Falls
Located just 10 minutes from Lake Taupo, Huka Falls is a turquoise-colored marvel. Witnessing over 220,000 liters of water rushing per second, it's one of New Zealand's most visited natural attractions. The sheer force and volume of the falls are a sight to behold.
Taranaki Falls
Discover Taranaki Falls in the Tongariro National Park. The waterfall is an incredible 2-hour return walk through the beech forest. The journey itself is as rewarding as the destination, with scenic views and diverse flora along the way.
Owharoa Falls
Situated a couple of kilometers from the popular Karangahake Gorge, Owharoa Falls is a delightful pit stop for those on the Hauraki Rail Trail or the historic walkway. Its cascading waters and surrounding greenery make it a serene spot for relaxation.
Whangarei Falls
To the north of Whangarei city lies the spectacular Whangarei Falls. This 26m high waterfall is surrounded by park, native New Zealand bush, and walkways. It's a great stop on a drive from Auckland to Northland, offering both beauty and tranquility.
McLean Falls
Regarded as one of the best waterfalls in Southland, McLean Falls cascades over dark mossy rocks, plummeting more than 20 meters into a deep gorge. Its bridal veil-like appearance is both calming and captivating, making it a favorite among visitors.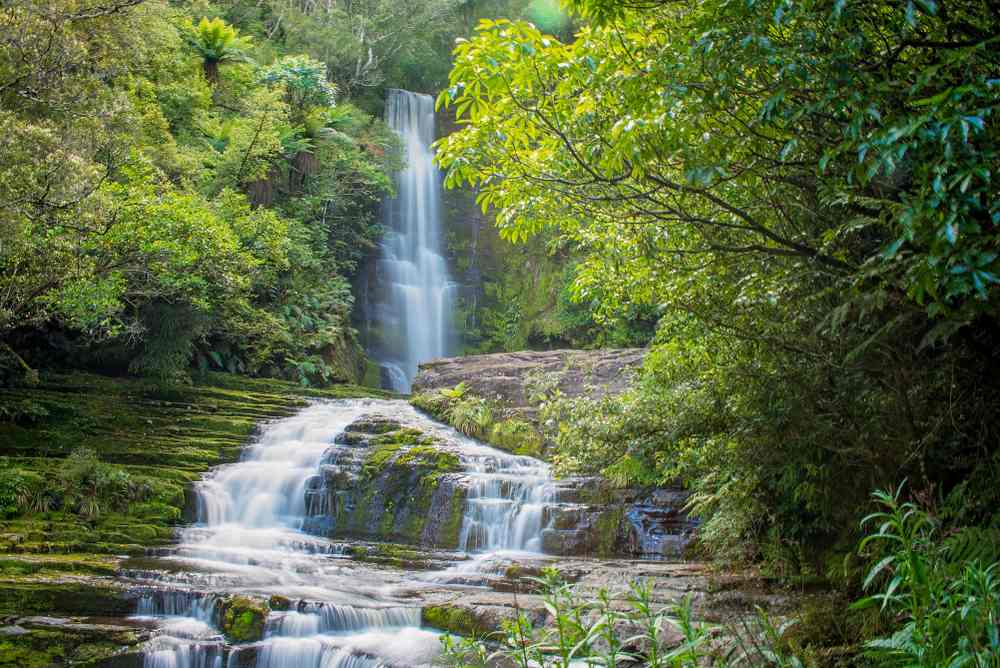 Devils Punchbowl Falls
Found in the heart of Arthur's Pass National Park, Devils Punchbowl Falls stands at 131m. A walk to the base of the waterfall is recommended in any weather, any time of the year. The walking track offers a 1-hour return journey, making it accessible for most.
Kitekite Falls
The Kitekite Falls, located in the Waitakere Ranges, cascade 40 meters into a large pool at the bottom. A moderately easy 45-minute walk near Piha Beach in Auckland leads to this spectacular waterfall, making it a popular choice for day-trippers.
Conclusion
New Zealand's waterfalls are more than just natural attractions; they're experiences waiting to be lived. From the highest waterfall in NZ to the hidden gems like kissing falls New Zealand, every waterfall tells a story.
So, the next time you're planning a trip, make sure to include these waterfalls in your itinerary. And remember, the best way to explore them? In the comfort of a campervan, where every stop becomes a memory to cherish.
FAQ
What is the most popular waterfall in New Zealand?
The most popular waterfall in New Zealand is Huka Falls. It is located on the Waikato River, near Taupo. Huka Falls is a powerful waterfall, with over 220,000 cubic meters of water flowing over it every hour.
What is the highest waterfall in New Zealand?
The highest waterfall in New Zealand is Sutherland Falls. It is located in Fiordland National Park, and is made up of three separate waterfalls. Sutherland Falls has a total height of 580 meters.
How many waterfalls are there in New Zealand?
There are thousands of waterfalls in New Zealand, of all shapes and sizes. Some of the most popular waterfalls are located in national parks and other tourist destinations, but there are also many hidden waterfalls that can be found off the beaten path.
Where are the best waterfalls to visit in New Zealand?
Tongariro National Park

Fiordland National Park

Waitomo Glowworm Caves

Coromandel Peninsula

Northland

Bay of Plenty

Waikato

Nelson

West Coast

Canterbury

Southland
When is the best time to visit waterfalls in New Zealand?
The best time to visit waterfalls in New Zealand is during the spring or fall, when the weather is mild and there is less rain. However, waterfalls can be beautiful to visit any time of year.
Are there any waterfalls in New Zealand that are safe to swim in?
Yes, there are a number of waterfalls in New Zealand that are safe to swim in. However, it is important to be aware of the risks involved in swimming in waterfalls, such as strong currents and hidden dangers. It is always best to check with local authorities before swimming in any waterfall.
Are there any waterfalls in New Zealand that are accessible to people with disabilities?
Yes, there are a number of waterfalls in New Zealand that are accessible to people with disabilities. Some of these waterfalls have paved walkways and ramps, while others have accessible viewing platforms.