Hire a campervan in Queenstown
Hire a campervan in Queenstown
Campervan Village (automatic)
The Campervan Village may not be the Brad Pitt of our campervan fleet but once you get behind the wheel you'll feel as comfortable as Hamilton in his Mercedes. On top of that, you won't get more bang for your buck with any other camper rental company in NZ! This beauty comes with an automatic petrol engine (60L tank) and power steering, to make every curve a breeze; plus, its living quarters include a fully equipped kitchen (with pots, pans, cutlery, utensils, a sink and a tap), a double bed (you'll sleep like a baby!), an interior dining area, and tons of storage space.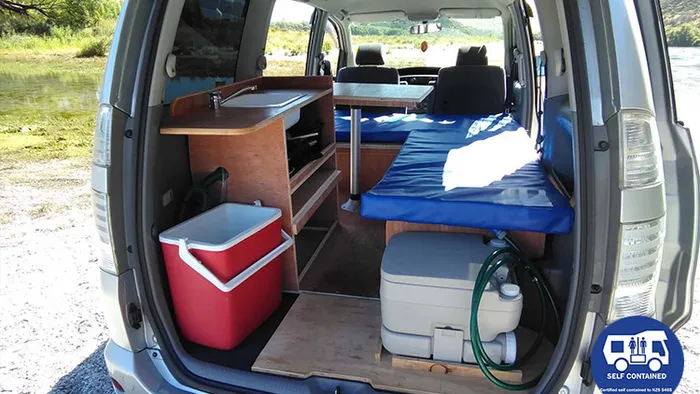 Campervan Deluxe (automatic)
The Campervan Deluxe is the go-to rental for travelers looking for a powerful and luxurious vehicle that will see them to the most remote locations in NZ, as well as providing spacious sleeping quarters and state-of-the-art charging and refrigeration systems especially made for staying off the beaten track for longer. But that's not all! This camper also includes a 3-burner gas cooker (plus cutlery, crockery and cookware), a 45L fridge, LED lighting, outside awning, sleeping bags, pillows, linen, and tons of storage space. Ready to embark on a unique adventure? You may not have to destroy the One Ring like Frodo, but you're in for an amazing ride!

Campervan XL (automatic)
The time has come to tick New Zealand off your bucket list! The Campervan XL gives you complete access to Kiwi Paradise, as only a spacious, comfortable, automatic and self-contained vehicle can. Get a good night's sleep after every day of adventure in its big double bed and roomy loft beds. On top of that, it includes a fridge, stove, microwave, wardrobe, crockery, cutlery, linen, towels and much more, so don't worry about a thing while packing for your trip! What are you waiting for? Bring yourself, 3 adults, +1 child, and explore New Zealand to your heart's delight!

Let's go on an adventure!
Unbeatable prices. Premium customer service.
Book now
Hiring a Campervan in Queenstown with Campervan New Zealand
Nestled amidst stunning alpine landscapes, Queenstown, the South Island's gem, is an adventurer's dream destination. A campervan hire in Queenstown provides the ultimate freedom to delve deep into its captivating beauty and vibrant atmosphere, all at your own pace.
Securing a Queenstown campervan hire equips you with the flexibility to let the wind guide your journey across the town's boundless outdoor offerings. Whether you're an adrenaline seeker, a nature lover, or a wine connoisseur, your campervan serves as your personal gateway to adventure.
At Campervan New Zealand, we provide more than just a campervan hire. You're signing up for a fully immersive experience defined by comfort, reliability, and a dedicated team that goes above and beyond to ensure your journey is a lasting memory.
Our commitment to top-tier customer service, paired with our meticulously maintained campervans, is what sets us apart. We're always ready to ensure your campervan hire in Queenstown becomes an unforgettable adventure.
Discovering Queenstown in a Campervan
Your Queenstown escapade kicks off with a trip to the bustling town centre in your Queenstown campervan hire. Embrace the lively café culture or try your hand at bungy jumping, the iconic Kiwi adventure sport.
Next, steer your campervan along the tranquil shores of Lake Wakatipu, immersing yourself in the serene beauty of the Remarkables Range mirrored in the water. Your Queenstown campervan hire offers front-row access to this spectacular natural panorama.
Push further into the historical gold mining town of Arrowtown. With your campervan hire in Queenstown, you have the freedom to explore this heritage-rich locale at leisure, soaking in the stories etched into its rustic buildings and tree-lined avenues.
Round off your journey amidst the vineyards of Gibbston Valley, savouring world-class Pinot Noir. With the flexibility of your campervan hire, you can even opt to stay overnight, under the stars and surrounded by the vines, making your Queenstown experience truly unique.
Embark on your Queenstown adventure with Campervan New Zealand, and let the open road lead the way. Safe travels, or as we say in Māori, Haere Mai!
Frequently Asked Questions
Visit our website, choose your preferred dates and campervan model, select your extras and follow the steps to complete the booking.
You need a full license appropriate for the class of vehicle and in English. International Driving Permits are accepted too. The driver needs to be a minimum of 25 years old with at least two years of driving experience.
Our campervans come with everything you need: bedding, kitchenware, safety equipment, and more!
Yes, but do familiarise yourself with local driving rules, and always respect the road conditions, especially in mountainous areas.
Definitely, our campervans are equipped for all New Zealand roads. Adventure awaits!
Campervan New Zealand offers 24/7 roadside assistance. We've got you covered.
Location & timetable
Booking Office Hours (telephone & email)
| WEEKDAYS | HOURS |
| --- | --- |
| Monday | Open 24 hours |
| Tuesday | Open 24 hours |
| Wednesday | Open 24 hours |
| Thursday | Open 24 hours |
| Friday | Open 24 hours |
| Saturday | Open 24 hours |
| Sunday | Open 24 hours |