Embarking on a road trip from Auckland to Queenstown is one of the most exhilarating ways to discover the diverse beauty of New Zealand. This adventure will take you through vibrant cities, quaint towns, breathtaking landscapes, and iconic attractions.
With your own set of wheels, you'll enjoy the flexibility to explore at your own pace. Whether you're a solo explorer or travelling with family or friends, our comprehensive Auckland to Queenstown self-drive itinerary will help you plan the trip of a lifetime.
Getting Started in Auckland
Highlights of Auckland
Auckland, New Zealand's largest city, is the perfect starting point for your road trip. Known as the 'City of Sails', Auckland combines urban charm with stunning natural beauty. Visit the iconic Sky Tower for panoramic city views, explore the stunning Auckland Domain, and take a ferry ride to the idyllic Waiheke Island.
Preparing Your Vehicle
Before setting off on your drive from Auckland to Queenstown, it's crucial to ensure your vehicle is road-ready. Check your campervan thoroughly, making sure that the tyres, lights, oil levels, and brakes are all in good condition. If you're hiring a campervan in Auckland, Campervan New Zealand offers fully equipped vehicles that will make your road trip comfortable and hassle-free.
Setting Off: Auckland to Wellington
Route Highlights
As you commence your drive from Auckland, the stunning Coromandel Peninsula is a must-see detour. Visit the world-renowned Hot Water Beach, and dig your natural hot spa in the sand.
Next, head to the geothermal city of Rotorua, an essential stop on your Auckland to Queenstown drive. Experience Maori culture at Te Puia, and take in the surreal landscapes of Wai-O-Tapu Thermal Wonderland.
Further south, you'll reach the picturesque Lake Taupo, the perfect spot for a relaxing break. Enjoy a picnic by the lake, try out trout fishing, or marvel at the mighty Huka Falls.
Overnight Stops
There are many scenic campsites and holiday parks en route where you can relax and recharge. In Rotorua, consider staying at the Rotorua Thermal Holiday Park for a unique experience. Along the shores of Lake Taupo, Taupo DeBretts Spa Resort offers excellent facilities and stunning views.
South Island Adventure: Wellington to Christchurch
Crossing the Cook Strait
From Wellington, your journey continues onto the South Island via a ferry ride across the Cook Strait. This journey is an experience in itself, with stunning coastal views and the potential to spot wildlife.
Exploring Christchurch
Christchurch, often known as the 'Garden City', greets you with its beautiful parks and an eclectic mix of old and new architecture. Visit the tranquil Botanic Gardens, explore the Canterbury Museum, or take a punt down the Avon River.
The Southern Alps: Christchurch to Queenstown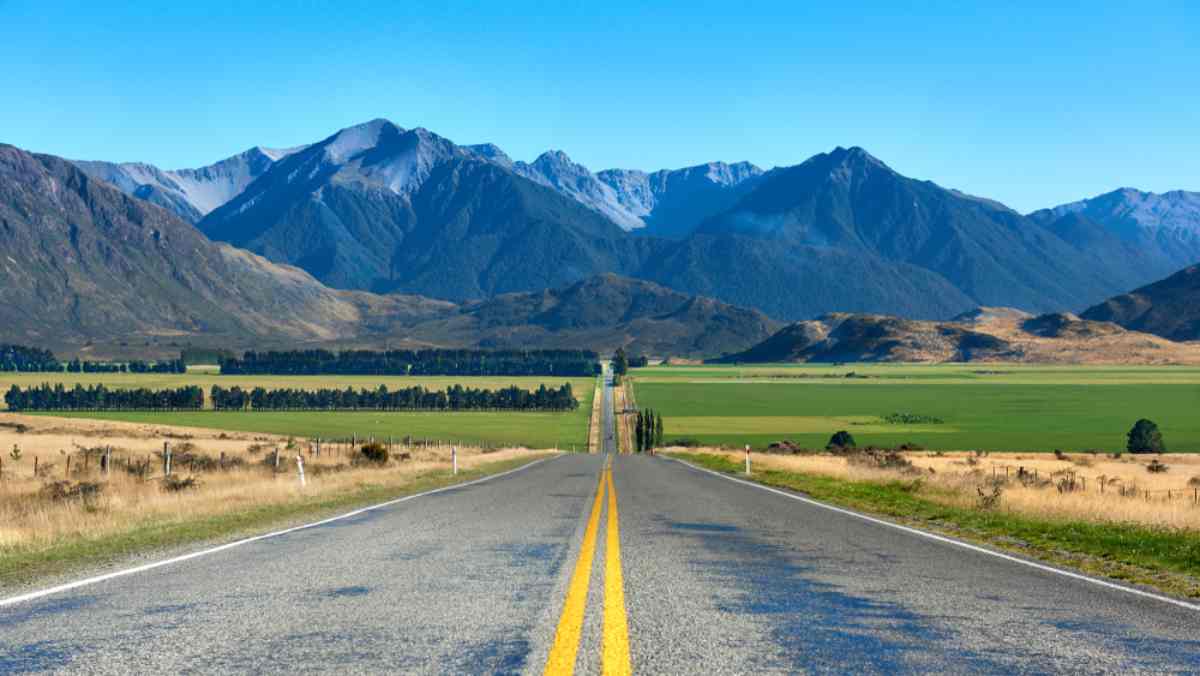 Driving through the Mountains
Leaving Christchurch behind, your Auckland to Queenstown itinerary now takes you through the majestic Southern Alps. As you journey through the Canterbury Plains, prepare for the captivating landscape of Lake Tekapo. The Church of the Good Shepherd and the lakeside Tekapo Springs are must-visit spots.
Further along the route, you'll encounter the towering Mount Cook, New Zealand's highest peak. Explore the trails of Aoraki/Mount Cook National Park or soak up the mountain views from the comfort of Mount Cook Village.
Must-See Spots
Before reaching Queenstown, don't miss the chance to explore Wanaka, a gem nestled in the Southern Alps. Visit Puzzling World, take a stroll around Lake Wanaka, or hike up Mount Iron for panoramic views.
Arriving in Queenstown
Queenstown Highlights
Finally, you've made it to Queenstown, the adventure capital of New Zealand. Get your adrenaline pumping with bungee jumping, jet boating, or skydiving. For something more laid-back, take a scenic gondola ride to Bob's Peak, enjoy a wine tour in the Gibbston Valley, or simply explore the vibrant downtown area.
Relax and Reflect: The Road Trip Experience
After the long but thrilling drive from Auckland to Queenstown, it's time to relax and reflect on your epic road trip. Look back on the incredible sights, experiences, and the sheer diversity of the landscapes you've traversed, from the urban charm of Auckland to the mountainous allure of Queenstown.
Tips for Your Road Trip
Safety Measures
Safety should always be your priority during a road trip. Be aware of New Zealand's road rules, especially those that might differ from your home country. Don't rush - remember, the joy of a road trip lies in the journey itself. Be cautious on hilly and winding roads, particularly in the South Island. Rest regularly to avoid driver fatigue.
Essential Road Trip Items
Remember to pack key road trip items, such as a first-aid kit, a road map (in case of unreliable GPS), plenty of water, and snacks. A cooler can be useful for keeping food items fresh. Don't forget your camera to capture the stunning scenery on your Auckland to Queenstown drive.
Wrapping Up Your Road Trip Adventure
The drive from Auckland to Queenstown offers a once-in-a-lifetime opportunity to experience the best of New Zealand's landscapes, culture, and iconic destinations. We hope this comprehensive guide helps you plan an unforgettable journey. Remember, the road less travelled often has the best stories to tell.
Frequently Asked Questions
1. How long does it take to drive from Auckland to Queenstown?
While it's possible to complete the drive in about 24 hours without stops, we recommend taking at least a week to fully enjoy the journey and make the most of your Auckland to Queenstown road trip. This allows ample time to explore major cities, landmarks, and enjoy the scenic beauty along the way.
2. Is it safe to drive from Auckland to Queenstown in a campervan?
Yes, it is safe to drive in a campervan, provided that you take regular breaks to avoid driver fatigue. Also, ensure your vehicle is well-maintained and always respect the road rules. Winter driving in the South Island can be challenging due to snow and ice, so be well-prepared and check weather forecasts regularly.
3. Where should I stop on my Auckland to Queenstown self-drive trip?
There are numerous interesting and beautiful places to stop along the way. Key highlights include the Coromandel Peninsula, Rotorua, Wellington, Christchurch, Lake Tekapo, Mount Cook, and Wanaka, among others. Plan your itinerary to include these and other spots that pique your interest.
4. What is the best time of year to do the Auckland to Queenstown drive?
The best time for your road trip really depends on your preferences. Summer (December to February) provides long, sunny days ideal for beach stops and outdoor activities. Autumn (March to May) offers stunning fall colours, particularly in Wanaka and Queenstown. Winter (June to August) is perfect if you enjoy snow sports. Spring (September to November) is a wonderful time to see blooming flowers and lambs in the fields.
5. What should I pack for a road trip in New Zealand?
Packing depends on the time of year and your planned activities. Essentials include suitable clothing for the season, sturdy shoes, sunscreen, insect repellent, a first-aid kit, and a road map. For your campervan, consider items such as a cooler, cooking equipment, and bedding.
Got more questions? Feel free to reach out to us at Campervan New Zealand - we're here to help you plan the perfect New Zealand road trip!