New Zealand, a land of unparalleled beauty, is home to some of the world's most breathtaking national parks. From the towering peaks of the Southern Alps to the serene beaches of the North Island, these parks offer a diverse range of landscapes and experiences. As travelers, we are fortunate to have the opportunity to explore these natural wonders.
The 14 National Parks in New Zealand
Abel Tasman National Park
Situated at 40°50′S 172°54′E, Abel Tasman might be New Zealand's smallest national park, but it packs a punch with its breathtaking beauty. The park is a paradise for kayakers, hikers, and nature enthusiasts. The coastal track here is one of New Zealand's Great Walks, offering panoramic views of turquoise waters and golden beaches. Marine reserves within the park make it a great spot for snorkeling and diving, revealing an underwater world of vibrant marine life.
Aoraki / Mount Cook National Park
Located at 43°44′S 170°6′E, this park is home to the towering Aoraki / Mount Cook, the tallest mountain in New Zealand. The park is a mecca for climbers, hikers, and stargazers. The clear skies make it an International Dark Sky Reserve, perfect for astronomical observations. The park's alpine landscapes, with glaciers and snow-capped peaks, offer a dramatic backdrop for numerous outdoor activities.
Arthur's Pass National Park
Nestled at 42°57′S 171°34′E, Arthur's Pass is a wilderness of alpine vistas, deep valleys, and braided rivers. It's a crucial habitat for the cheeky kea, the world's only alpine parrot. The park offers a range of hiking trails, from short walks to challenging multi-day treks, each unveiling the rugged beauty of the Southern Alps.
Egmont National Park
Positioned around Mount Taranaki at 39°16′S 174°6′E, this park is characterized by its almost perfect volcanic cone. The lush rainforest at the mountain's base, which contrasts with the snowy peak, offers a unique landscape. The park has numerous trails, with the summit climb providing panoramic views of the Taranaki region.
Fiordland National Park
Spanning the southwest corner of the South Island at 45°25′S 167°43′E, Fiordland is a vast wilderness of jagged peaks, deep fiords, and ancient rainforests. Iconic spots like Milford Sound and Doubtful Sound offer cruises to witness cascading waterfalls and marine life. The park also hosts the famous Milford Track, a must-do for avid hikers.
Kahurangi National Park
Situated in the north-west of the South Island at 41°15′S 172°7′E, Kahurangi is a diverse landscape of marble mountains, coastal forests, and alpine plateaus. The park is a haven for birdwatchers, with species like the great spotted kiwi calling it home. The Heaphy Track, another of New Zealand's Great Walks, traverses this park, offering varied landscapes.
Mount Aspiring National Park
Centered on Mount Aspiring / Tititea at 44°23′S 168°44′E, this park is a mosaic of alpine meadows, snow-clad peaks, and dense rainforests. The park is a favorite among mountaineers and also offers serene valleys like the Matukituki Valley, perfect for relaxed walks and picnics.
Nelson Lakes National Park
Located in the Nelson Region at 41°49′9″S 172°50′15″E, this park offers tranquil lakes set against a backdrop of rugged mountains. Lakes Rotoiti and Rotoroa are popular for boating and fishing. The park's beech forests are home to a variety of bird species, making it a birdwatcher's delight.
Paparoa National Park
Positioned on the West Coast of the South Island between Westport and Greymouth at 42°5′S 171°30′E, Paparoa is famous for its limestone landscapes. The Pancake Rocks and Blowholes at Punakaiki are natural wonders that attract many visitors. The park's dense rainforests and caves offer numerous exploration opportunities.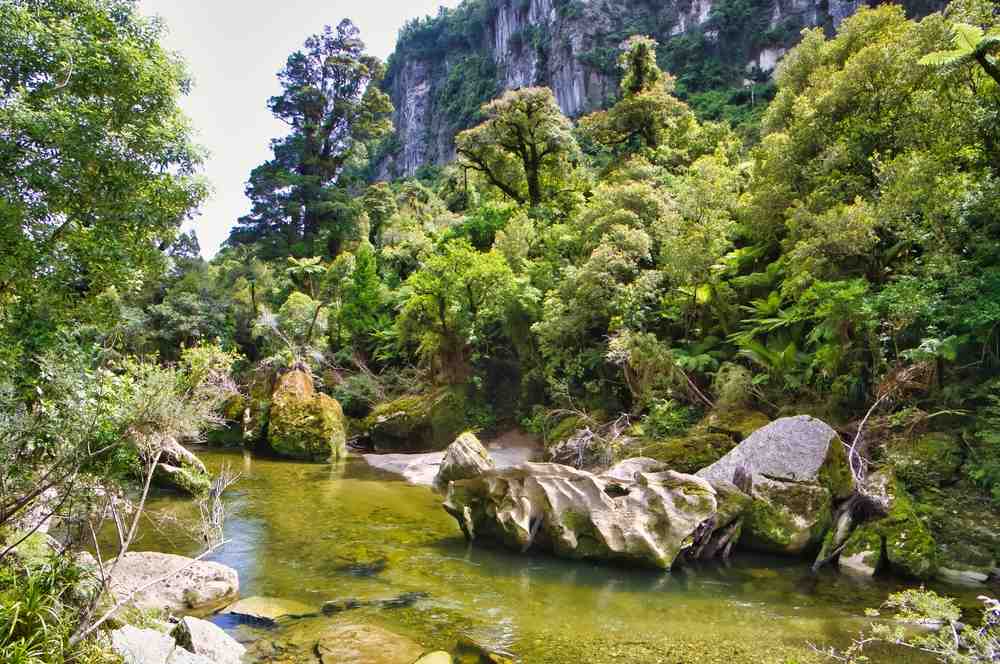 Rakiura National Park
Covering about 85% of Stewart Island / Rakiura at 46°54′S 168°7′E, Rakiura offers a glimpse of New Zealand's wilderness in its most pristine form. The park is a refuge for native birds, and visitors might even spot the elusive kiwi in its natural habitat.
Te Urewera National Park (disestablished 2014)
Once located at 38°45′S 177°9′E, Te Urewera was a bastion of native forest in the North Island. Although no longer a national park, the area remains protected and is revered for its deep cultural significance to the Tūhoe people and its lush, ancient forests.
Tongariro National Park
New Zealand's first national park at 39°12′S 175°35′E, Tongariro is a UNESCO World Heritage site. It's a land of active volcanoes, emerald lakes, and Maori cultural heritage. The Tongariro Alpine Crossing is one of the world's best one-day hikes, offering surreal volcanic landscapes.
Westland Tai Poutini National Park
Stretching from the highest peaks of the Southern Alps to the remote coastline at 43°23′S 170°11′E, this park is home to the Franz Josef and Fox glaciers. These glaciers are unique, descending from the mountains to the temperate rainforest below.
Whanganui National Park
Lying along the Whanganui River at 39°35′S 175°5′E, this park is a blend of river landscapes and hill country. The Whanganui Journey offers a unique canoeing or kayaking experience, passing through deep gorges and lush forests.
Things to do in New Zealand's national parks
From hiking and camping to bird-watching and stargazing, the activities are endless. Hiking in NZ national parks is a must-do, with trails suitable for all levels. For those keen on Maori culture, Tongariro offers several sacred sites. And for the adventurers, the alpine challenges of Aoraki can't be missed.
What is the best time of year to visit New Zealand's national parks?
The best time of year to visit New Zealand's national parks depends on the park you are visiting. Some parks, such as Tongariro National Park, are accessible year-round. However, other parks, such as Fiordland National Park, are best visited during the summer months (December to February) when the weather is more settled.
What should I pack for a trip to New Zealand's national parks?
When packing for a trip to New Zealand's national parks, it is important to pack for all types of weather. The weather in New Zealand can be unpredictable, even in the summer months. Be sure to pack layers of clothing, as well as a rain jacket and umbrella. You should also pack comfortable shoes for hiking and other activities.
Layers of clothing

Rain jacket and umbrella

Comfortable shoes

Insect repellent

Sunscreen

Hat

Sunglasses

First-aid kit

Water bottle

Snacks

Camera

Map of the park you are visiting
Getting to New Zealand's national parks
Most national parks are easily accessible by road, with many located near major towns or cities. Regular bus services, guided tours, and even scenic flights are available for some of the more remote locations.
Accommodation in New Zealand's national parks
Staying within the park boundaries is an experience in itself. From well-maintained campgrounds to cozy huts and luxurious lodges, there's something for every budget. And for those looking for a unique experience, why not consider a campervan rental? It's a flexible and fun way to explore, and with companies like Campervan New Zealand, you're in for a treat.
Tips and tricks for planning your visit
Always check the weather forecast and be prepared for sudden changes.

Familiarize yourself with the local flora and fauna – it will enrich your experience.

Respect the environment. Remember, these parks are protected for a reason.
Conclusion
New Zealand's national parks are a testament to the country's commitment to preserving its natural heritage. Whether you're a first-time visitor or a seasoned traveler, the beauty and diversity of these parks will leave you in awe. So pack your bags, rent that campervan, and set off on an adventure of a lifetime!